Refrigerator Appliance Cleaners (3) results)
Item # 2117689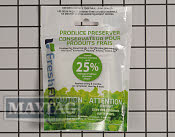 FreshFlow™ Produce Preserver refill.
Produce preserver absorbs ethylene which slows the ripening process of many produce items.
As a result, certain produce items will stay fresh longer, up to 25% longer.
Packet contains two pouches.
OEM Part - Manufacturer #W10346771A
Item # 1544893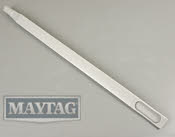 37 in. vacuum cleaner attachment for condenser and dryer cleaning - This vacuum cleaner attachment will help to clean dust and lint build-up in and around your refrigerator condenser coils underneath the refrigerator and dryer lint in the area where the lint filter is inserted. Fits 1-1/4 in. vacuum
OEM Part - Manufacturer #8171579A
Item # 1549456
Stainless steel brightener, 8 ounces. It easily and effectively brightens stainless steel, chrome, copper, aluminum and brass surfaces. It removes heat and discoloration and yellowing. It is safe for use on food preparation surfaces.
OEM Part - Manufacturer #W10252111