Washing Machine Appliance Cleaners (2) results)
Item # 1373065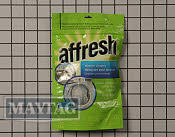 Affresh® Washing machine cleaner. This cleaner removes and prevents odor-causing residue in all brands of washers. To use, add one tablet to washer with no clothes and select hot water.

- Septic safe
- More effective than bleach.
- Three tablets per package.
OEM Part - Manufacturer #W10135699
Item # 1549456
Stainless steel brightener, 8 ounces. It easily and effectively brightens stainless steel, chrome, copper, aluminum and brass surfaces. It removes heat and discoloration and yellowing. It is safe for use on food preparation surfaces.
OEM Part - Manufacturer #W10252111