Maytag Dryer Model MEDC215EW1 Fuse, Thermal Fuse & Breaker Parts
Item # 2986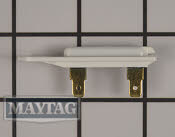 This part fits your Dryer
Dryer thermal fuse located on the blower housing. If the dryer overheats, the thermal fuse blows cutting off power to the motor or the heating system. When the fuse is bad the dryer won't start or will run but not heat. The thermal fuse cannot be reset. Fuses often blow due to a clogged dryer vent.
OEM Part - Manufacturer #WP3392519
Item # 2651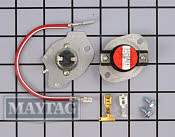 This part fits your Dryer
Dryer heating element thermal cut-off (thermal fuse) 309 degrees and high limit thermostat 250 degrees, with wiring kit. If the dryer does not heat the thermal cut off may have blown and a new high limit thermostat is needed.
OEM Part - Manufacturer #279816