Maytag Dryer Model MEDC215EW1 Thermostat Parts
Item # 2893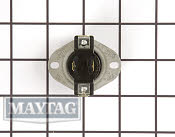 This part fits your Dryer
Dryer cycling thermostat with internal bias heater, L155-25. If the dryer won't heat, it is unlikely that this thermostat is causing the issue, as the thermal fuse or thermal cut-out normally fail first.
OEM Part - Manufacturer #WP3387134
Item # 898078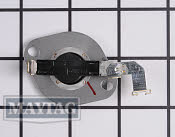 This part fits your Dryer
Dryer high-limit thermostat, L250-80, with terminal extension arm. This thermostat should be closed for continuity at room temperature and opens at around 250 degrees Fahrenheit. If the dryer won't heat, the high-limit thermostat might be defective.
OEM Part - Manufacturer #WP3977767