Range Vent Hood Kitchen Appliance Accessories
Item # 1958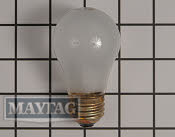 40 Watt frosted appliance light bulb.
OEM Part - Manufacturer #8009
Item # 3003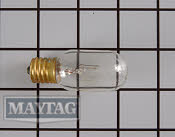 25 watt light-bulb for various appliances, 120 volts, small base screw-in. Bulb has been updated and you may need the recommended socket to install this light bulb. Also bulb is no longer blue tint per factory.
OEM Part - Manufacturer #WPA3073101
Item # 1878534
Affresh® cooktop cleaner. 10 ounce bottle. This non-abrasive cleaner is proven to remove even the toughest baked-on residue, even grease heated to over 750 degrees Fahrenheit. It is safe for all glass, ceramic, and porcelain cooktops.
OEM Part - Manufacturer #W10355051