Range/Stove/Oven Appliance Cleaners
Item # 1878534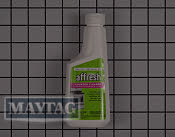 Affresh® cooktop cleaner. 10 ounce bottle. This non-abrasive cleaner is proven to remove even the toughest baked-on residue, even grease heated to over 750 degrees Fahrenheit. It is safe for all glass, ceramic, and porcelain cooktops.
OEM Part - Manufacturer #W10355051
Item # 2210272
Oven cleaning kit, includes (1) expanding sponge, (1) scrubbing sponge, (1) scraper. Use the scraper to easily remove soil that has burned on. The sponge is double sided. One side is smooth to wipe away spills and the other side is rough for more stubborn stains.
OEM Part - Manufacturer #W10423113RP
Item # 1938460
Scrubber pads, pack of 20.
OEM Part - Manufacturer #W10391473